THE MEATBALL FROM ONDER DE OOIEVAAR
Due to all the media attention for our meatball, we were inundated with emails asking us to provide the recipe for our meatball. Since we would like to make the meatball lovers happy, we have put the recipe online.
INGREDIENTS:
2 kg minced meat (45% beef and 55% pork is better)
3 eggs
4 white sandwiches without crust
little milk
bread-crumbs
1 tablespoon minced herbs
1 tablespoon paprika (Spanish) powder
1 tablespoon beef stock powder
3 cloves of garlic
2 large onions
tea cup sweet soy sauce
large tablespoon of French mustard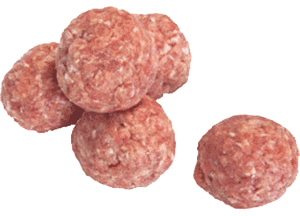 PREPARATION:
Chop onions finely, garlic very finely
mix with the soy sauce, minced meat herbs, paprika powder, and beef stock.
In another container, mix the white bread with some milk and let it soak for at least 15 minutes.
In yet another container, mix the minced meat with the eggs, the onion mixture, the pressed and soaked white bread, 200 grams of breadcrumbs, and a generous spoonful of mustard. Mix it all up well.
The convection oven is at 180 degrees.
When the minced meat has stood for fifteen minutes and is at room temperature, then roll into balls of 320(!) grams.
Then in a low oven dish in the oven and bake for 40 minutes. (After 20 minutes, if necessary, turn the oven dish 180 degrees)
Use the shortening later to make a gravy, possibly supplemented with some veal gravy!
Serve in a bowl with the gravy, some bread, and some acid from De Leeuw and Eat Tastily.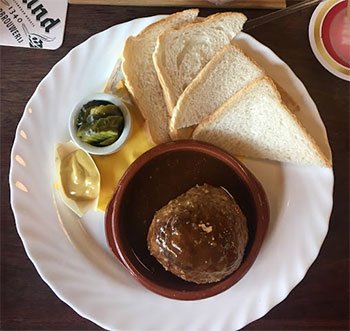 japan
Our meatball was widely praised not only in the inland, even the Japanese loved our ball. There is even a video of it on YouTube.